The award winners of the "Top 10 Armenian Women-Innovators" are known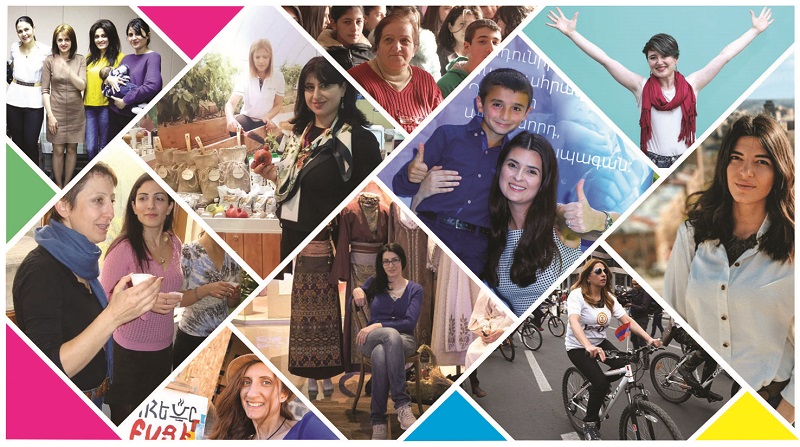 Today, on May 22d, the results of the "Top 10 Armenian Women-Innovators" journalistic contest published by WomenNet.am were announced. Ten of dozens of stories about innovative women's work and dedication were selected. Their writers and heroes were awarded incentive prizes.
Let us remind, that the contest was launched in December 2017 within the Women and Innovation project, which is being held by WomenNet.am with the support of the Lush Charity Pot charitable initiative.
Under the terms of the competition, the presentations would have to tell about women's innovative ideas in any area – in economy, business, politics, agriculture, science or social life, in the field of information technology or art.
According to the decision of the jury, "The Top Ten of Women Innovators" was formed thanks to the journalistic works/ that have received almost equal number of points/ authored by Sona Martirosyan, Lia Khojoyan, Arman Gharibyan, Marianna Ghahramanyan, Gayane Sargsyan, Anush Nersisyan and Marjan Chobanyan.
During the award ceremony jury members confessed that the selection was complicated, they read admiring women innovators doing their best to make changes in their environment … Then they remembered that they should evaluate the work of a reporter, not the hero … In all cases, according to the jury's assessment, the award winners have been able to present more convincingly innovative work style of their heroines … "The characters are very interesting and bright. These innovations have changed the lives of people, "said Jury President, expert Lilit Zakaryan.
Jury members, journalists telling about heroines, also mentioned that they were excited when talking to women, when writing about them and then reading,. "Reading the material, I was thinking what I can do. I kept thinking about creating something else "said Marianna Abovyan, a jury member and psychologist.
WomenNet.am editor Tamara Hovnatanyan, speaking about the main goals of the contest, underlined that they were promoting the idea of making female innovators visible to the public.
"The stories on this topic have always been and will always be on our site because we attach great importance to women's role in promoting innovative ideas," she said. According to her observation, innovations by women have an interesting characteristic feature – their basis and motives are often not personal ambitions, but the tendency to help the community, to improve and change the community. In addition, any innovative idea is skeptical at the initial stage, and if its author is a woman, it is almost certain that we deal with double skepticism, which does not stop women, but vice versa, gives them new strength and the will to overcome difficulties.
Sona Martirosyan has presented more than a dozen stories, three of them have become winners – "Freckled-faced girl's dreams and victories", "Change the country through education- Larissa Hovhannisyan's unconditional love phenomenon", "Melania Yepremyan: The woman who made a "revolution" in Vardenis". In her gratitude speech, Sona Martirosyan considered it to be symbolic that the target group of all winning stories are children – their education, development, health rehabilitation, and entertainment. "When you are dealing with journalism for a long time, you lose the ability to admire heroes every day, because in time, meeting good, kind, intelligent and different people becomes commonplace. But I would like to thank the organizers of this competition as I have met such women within the framework of this project, from each of them you can learn something new each day, and you can admire them", – said the journalist.
The heroine of Lia Khojoyan's story " Emma Marashlyan's Art of Combining Old and New" mentioned that this is the result of love and devotion. Seven years ago, she moved from Moscow to Yerevan, with such a firm conviction. She also urged other women to overcome obstacles to reach the goal, to be the first, to believe in their strength.
The messages of heroines of the victorious stories coincided – not to stop, to continue to learn, to act, to dedicate to the idea, to work with love, fearlessness, growth every day. The wishes were not much different – to have a better homeland where gender equality issues would be solved along with other issues, and it would not be necessary to isolate women and men when talking about rights protection and opportunities.
Views: 5360